Several bright lights and, according to some texts, stars above a forest spotted by a hermit indicated the location of what would become the Cathedral of Santiago and where, later on, a city would grow to become the current capital of Galicia.

This strange phenomenon that took place in the 9th century led, according to texts from that time, to the discovery of the Apostle James' sarcophagus. The "campus stellae" or field of stars would become the area's surname, an expression that resulted in what we now call Compostela, leading to great urban development in nearby areas, such as our locality, which became the Apostle's Port.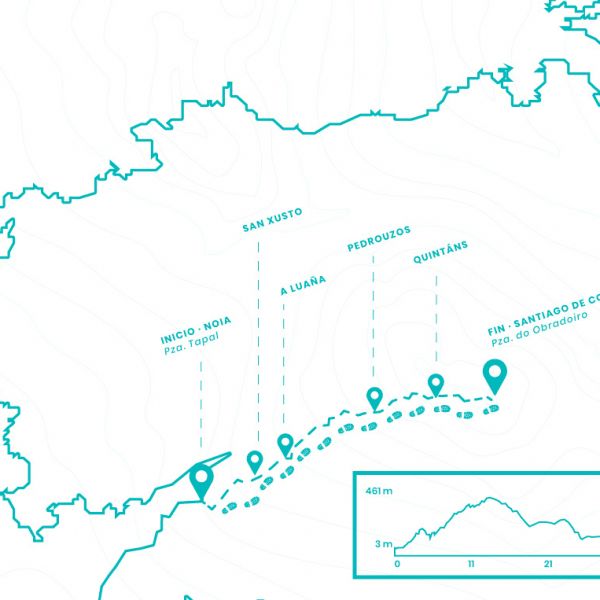 King Fernando II founded in 1168, when he granted Noia's Town Charter, a new town called "Totum Bonum," with the objective of building and restoring the Apostle's Port cited as Portus Apóstoli. This indicates the importance of the port activity in the town, where many boats arrived carrying goods and passengers who were heading to Santiago on a pilgrimage, since Pope Calixtus II had granted the Santiago Church the grace of the Jubilee in 1122. The first Compostela Holy Year was held four years later. After these two celebrations, numerous European pilgrims walked from Portus Apostoli to Locus Sancti, the holy site of Compostela.
Many of the town's historic buildings and tombstones with guild inscriptions, which are kept in the Church-Museum of San María A Nova, feature details of carvings and other architectural remains that indicate Noia's close relationship with the world of pilgrimages.
Today, many pilgrims decide to follow this unofficial Way of St. James, which has received the support of several sources in order to be included in the official classification of Way of St. James routes.