According to legend, Noia was founded by Noah, who named it after his daughter Noela. This brave man mentioned in the Bible, who captained an ark that saved the lives of thousands of animal species during the Great Flood sent by God, came to a standstill after his journey on one of the mountains in the Sierra del Barbanza, more specifically on Monte Aro, identified in the Bible as Mount Ararat.
Thereafter, the descendants of Noah and his son Japheth settled an extensive geographical area between the Black Sea and the Iberian Peninsula. After that mythical, tempestuous voyage, they disembarked somewhere on the Galician coastline now called the Ria of Muros and Noia. More specifically, according to legend, the family settled in a place now known as A Barquiña, which was where Noe himself planted the first vines.
Whether true or not, the myth lives on in our locality's coat of arms, which features the drawing of an ark-like vessel, sailing on the sea. A dove holding an olive branch in its beak completes the image, pointing to the Biblical account according to which this was a divine indication that the curse had ended and that they could therefore, at last, land on solid ground after their difficult journey. Tradition is therefore behind this coat of arms that is displayed on some of our buildings, such as the town hall.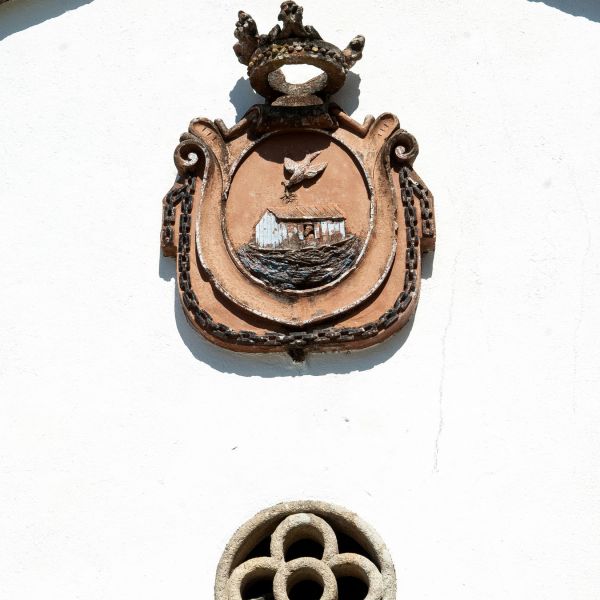 This nice story was revived by the writer Javier Sierra in his novel El Ángel Perdido (published by Editorial Planeta) and is completed by a reference to one of the tombs or tombstones that is kept in our Church-Museum of Santa María a Nova. More specifically, the author promoted the legend by claiming that the 14th-century tomb of Ioan de Estivadas (a name that has to be read using a mirror since it is engraved the other way around), a vine grower and winemaker, could be Noah's sarcophagus, since they both had the same profession.
If you would like to immerse yourself in a magical holiday, we are waiting for so that you can steep yourself in our history, our mysteries and in a paradisical setting. Are you ready?